I'm often asked where I got the idea for the novel Alice Bliss. Alice Bliss grew out of a one-act, one-woman musical, ALICE UNWRAPPED, that I wrote with the composer Jenny Giering.
The musical was commissioned by Paulette Haupt and Premieres, Inc and premiered in an evening of one-act, one-woman musicals called "Inner Voices: Solo Musicals," at The Zipper Factory, Off-Broadway in NYC. Jennifer Damiano was our Alice.  She was 16 years old when we met, and had already been on Broadway in "Spring Awakening."  She took her SATs while we were in rehearsal and turned 17 the night before we opened.
An extraordinary performer, Jennifer went on to play Natalie on Broadway in "Next to Normal" for two years.  She is currently in rehearsals for the upcoming Broadway premiere of "Spider Man Return of the Dark," directed by Julie Taymor.
ALICE UNWRAPPED went on to several productions in Minneapolis, first as a reading in a series called "Rough Cuts," with Nautilus Music Theatre, then at "The Spirit in the House Festival," and finally at "The Minneapolis Fringe Festival," directed by Ben Krywosz and starring Jill Anna Posniak.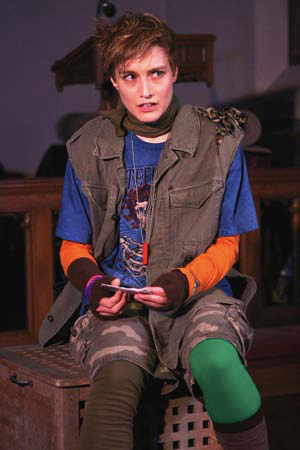 In "Alice Unwrapped," Alice lives with her family in an apartment in NYC.  Her Dad, who is serving in Iraq, is MIA, her mom is losing it and has retreated to the bedroom, Alice is desperately trying to hold the family together, and her genius kid sister Ellie is demanding normal.
Alice has researched the body armor that her father is probably wearing and has devised her own version of armor with duct tape, army boots, a hunting vest, a bike helmet and ingenuity.  As you can imagine, this is not going over very well in high school.  But Alice's need to hang on to her dad and shelter inside this "armor" is stronger than anything anyone can say.  Until Ellie says, if you don't take that ridiculous suit off, I'm not coming home ever again.
So the musical centers on the moment that Ellie makes that demand of Alice and Alice finds the courage to begin to unravel the armor that has been protecting her from the loss of her father.
The musical — with only 35 minutes of playing time — could only give us a snapshot of the family and then capture one key moment in Alice's life.
I quickly realized that there was a very rich story still to be told and that Alice Bliss was a character I wanted to spend more time with.
****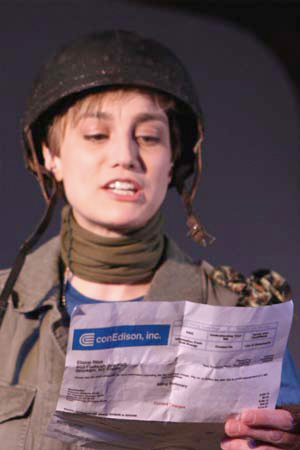 Nautilus Music Theatre's production of "Alice Unwrapped," by Laura Harrington and Jenny Giering, directed by Ben Krywosz and starring Jill Anna Posniak, garnered some great reviews at the Minneapolis Fringe Festival.
Graydon Royce at the STARTRIBUNE says:
"Wow. An outbreak of real art at the Fringe… The music, the heartbreak, the sense of honor in young Alice make this 35-minute piece a poignant ode to family relationships… Nautilus Music-Theater has brought this kind of small, beautiful jewel to the Fringe many times. This year is no exception… "
Dominic Papatola at the PIONEER PRESS calls it a "Must See":
"Jill Anna Ponasik gives lovely, rending and plaintively honest voice to Alice as the composing team of Laura Harrington and Jenny Giering create a dissonant but affecting score…"
Audiences and bloggers are saying:
"One expects top notch professionalism from Nautilus Music-Theater and this production does not disappoint."
"An absolutely perfect blend of music and theater in a dramatic one-person tour-de-force."
"Beautifully sung and accompanied — the music will have you enthralled."
"This show is perfection — the writing, the music, the voice and the acting ability all combine into a whole that is more than the sum of its parts."
"This touching, timely and poignant musical was a peak fringe experience for me — the show is hugely relevant, is completely heartbreaking, and yet holds out a glimmer of unforced hope at the end."
"Jill Anna is very convincing, charming, funny, sad, angry, tender, genuine."
"Fringe shows usually receive short or somewhat sustained applause; this performance received an instantaneous and unanimous and long standing ovation."
"If you only see one fringe festival show, make it ALICE UNWRAPPED!"
****
I've just returned the copy edited MS of Alice Bliss to Penguin/ Viking.  As this is my first time going through this process, it has been a little overwhelming at times.  I found myself wondering if I could possibly retain one more detail.  My editor, her assistant, and the copy editor have all been fantastic.  This is what my kitchen table looked like for a week.  With some help from my cat, Monty.
****