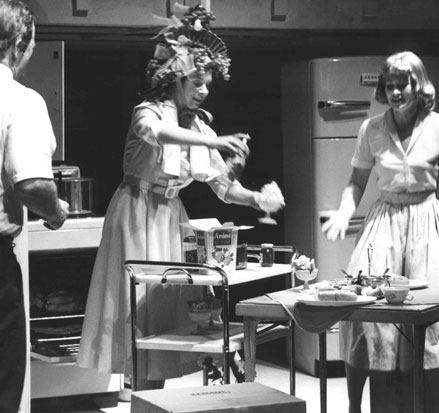 PORTLAND OPERA COMPANY, 1990
Playwrights Horizons,
New Theatre Wing, NY, 1989
Libretto: Laura Harrington
Music: Christopher Drobny
A black comedy. Lucy, also known as Mom, forgets things. More and more things. She decides that life without a mind is not worth living and sets out to kill herself, but can't remember how. So she contrives to drive her family crazy enough to help her do the deed.
"There were plenty of laughs in Laura Harrington's action-packed libretto. Some reviewers had trouble categorizing Lucy's Lapses. "Is it an opera?" they asked. "A pseudo-opera?" Who cares! Lucy's Lapses is an amusing, entertaining and genuinely moving piece of opera/ music theatre, which evokes a tremendous amount of sympathy for its protagonist." —Bay Area Reporter
WORKSHOPS
The National Opera/ Music Theatre Conference of the Eugene O'Neill Memorial Theatre Center, Paulette Haupt, Artistic Director
Directed by Stewart Ross.
Nominated for Stephen Sondheim Award
PRODUCTIONS
Portland Opera Company, 1990
Portland Center for the Performing Arts, Portland, Oregon, 1990
Robert Bailey, General Director
Libretto: Laura Harrington
Composer: Christopher Drobny
Director/ Choreographer: Kelly Robinson
Conductor: Paulette Haupt
Set and Costume Designer: Shawn Kerwin
Lighting Designer: Kobe Enright
Casting Director: Alan Filderman
Makeup/ Wig Designer: Vivian Lyman
Production Stage Manager: Randy A. Carswell
With: Meg Bussert, Rebecca Baxter, John Leslie Wolfe, Michael Curran
Playwrights Horizons, NY, NY, 1989
Playwrights Horizons, New Theatre Wing, NYC
Andre Bishop, Artistic Director
Directed by: David Warren
With: Rita Gardner Robert Duncan O'Neill Lynette Perry Jamie Ross
Set Design: James Youmans
Costume Design: David C. Woolard
Lighting Design: Debra Dumas
Sound Design: John Kilgore
Musical Direction: Paulette Haupt
Musical Theatre Program Director: Ira Weitzman
Production Stage Manager: Eric Osbun
Choreography: John Carrafa