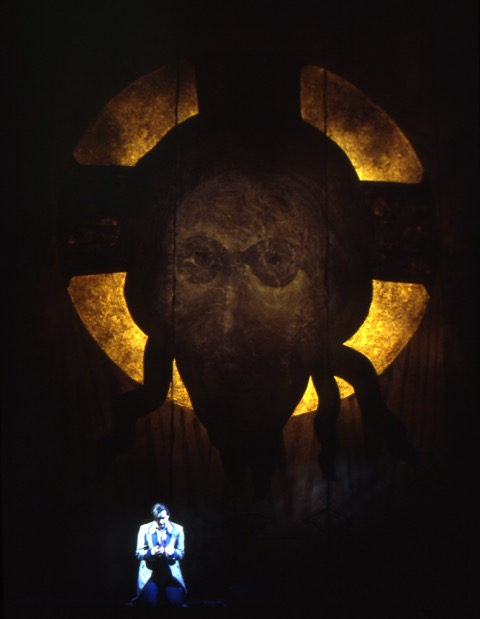 Houston Grand Opera, 1999
Boston Lyric Opera, 2001
Libretto: Laura Harrington
Music: Tod Machover
Based on Tolstoy's last novel, Resurrection tells the story of the spiritual awakening of Prince Nekhlyudov, who in his youth seduced a young serving girl, Katerina Maslova. She becomes a prostitute and later, when she is on trial for poisoning a lover, Nekhlyudov is on the jury that unjustly condemns her to prison. The Prince decides he is responsible for the turn her life has taken and becomes obsessed trying to make amends, even following her to Siberia. He devotes his life and his fortune to freeing her. Prefiguring the Russian Revolution, Resurrection is a story of courage and redemption.
"A milestone and a noble achievement" —National Public Radio
"Librettist Laura Harrington has provided Machover with a more honorable, literate treatment of Tolstoy's alternately dramatic and intimate probing of guilt and salvation. Machover, in turn, has given their words a richly intelligent setting, gritty at times but soaring, intensely lyrical at others, remarkable in its sure sense of propulsion Live in the opera house, or equally live as newly created on disc, Resurrection is a work of genuine originality, remarkably skillful in the vocal writing, its music imaginatively tinged – enhanced, in fact – with a light wash of Mussorgsky here, and Prokofiev there. It adds to the paltry store of worthwhile new operas a work of great attractiveness and power." —LA Weekly
"Laura Harrington's …story line's dramatic tension and characters' inner needs come across through Machover's exceptionally clear text settings. Computer-enhanced sound sources supplement the modest, unplugged instrumental forces: sometimes with subtle underpinning of bass lines, other times in ways where "effects" pull focus from the composer's deft and transparent orchestrations, such as in Act 2's flogging scene. The solo singing is outstanding, notably in the principal roles. Scott Hendricks' ringing tenor is just right for Prince Nekhlyudov, and soprano Joyce DiDonato creates a moving, multidimensional portrait of Katerina. Those who know Tod Machover's hard-hitting, angular electronic musical theater pieces, like Valis, will probably be surprised by Resurrection and increasingly moved as the work progresses."
—ed Distler
"Todd Machover (and Laura Harrington's) Resurrection transforms a classic Russian novel into a powerful new American opera."
—Joshua Rosenblum, Opera News
PRODUCTIONS
Houston Grand Opera, 1999
Boston Lyric Opera, 2001
Houston Grand Opera, David Gockley, General Director
Libretto: Laura Harrington
Music: Tod Machover
Director: Braham Murray
Conductor: Patrick Summers
Set and Costume Design: Simon Higlett
Lighting Design: Chris Parry
Choreographer: Sandra Organ
Chorus Master: Richard Bado
STARRING
Prince Dmitry Nekhlyudov: Christopher Schaldenbrand
Katerina Maslova: Joyce DiDonato
Sofia Ivanovna: Katherine Ciesinski
Princess Missy Korchagin: Kerri Marcinko
Prince Korchagin: Dale Travis
Princess Sophia Korchagin: Judith Christin
Peter Simonson: Raymond Very