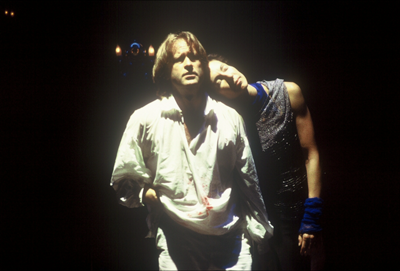 Laura Harrington, award-winning playwright, lyricist and librettist, winner of the 2008 Kleban Award for "most promising librettist in American Musical Theatre," has written dozens of plays, musicals, operas and radio plays which have been produced in 28 states, Canada and Europe, in venues ranging from Off-Broadway to Houston Grand Opera to the Paris Cinemateque. Harrington has twice won both the Massachusetts Cultural Council Award in playwriting and the Clauder Competition for best new play in New England. Additional awards include a Boston IRNE (Independent Reviewers of New England) Award for Best New Play, a Bunting Institute Fellowship at Harvard/ Radcliffe, a Whiting Foundation Grant-in-Aid, a New Orleans' "Big Easy" Award, the Joseph Kesselring Award for Drama, a New England Emmy, a Quebec Cinemateque Award, as well as grants from the NEA, Opera America, the Pilgrim Project, the Canada Council, etc.
Laura teaches playwriting at MIT where she was awarded the 2009 Levitan Prize for Excellence in Teaching. She has also been a frequent guest artist at Tufts, Wellesley, Skidmore, the University of Iowa, and Harvard where she was a Briggs-Copeland Fellow. She was the 2014 Jack Kerouac Writer in Residence at UMass Lowell.
She occasionally steps into the classical music world, having written a choral cantata with composer Roger Ames, Let There Be Joy, based on a poem by Kim Garcia, and The Song of the Silkie, a chamber work for string quartet and baritone, written with composer Elena Ruehr.
Current projects include a commission from Playwrights Horizons to create Alice Bliss, the musical, with composer Jenny Giering and lyricist Adam Gwon. A workshop of the musical will take place in 2017 in New York City, with Mark Brokaw directing. She is writing a piece for orchestra, chorus and two soloists with composer Roger Ames, based on yet another version of the Silkie myth, and is in the planning stages for a revival of The Perfect 36 for the 100th Anniversary of the passage of the 19th Amendment.